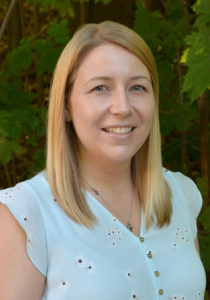 Stefanie Lewis, DO
Medical School: University of New England College of Osteopathic Medicine (ME)
Pediatrics Residency: UMMS – Baystate Medical Center (MA)
Dr. Stefanie Lewis earned an undergraduate degree in biology from New England College in New Hampshire and a master's degree in human nutrition from Columbia University. From a young age, she knew she wanted to be a pediatrician, and with this goal in mind she completed medical school training at the University of New England College of Osteopathic Medicine and entered pediatric residency at UMMS – Baystate.  A sports medicine elective early in residency sparked an interest in pursuing advanced training in sports medicine after residency. Stefanie has a particular interest in injury prevention. She played ice hockey at the collegiate level, coached ice hockey at the high school level, and continues to have a love of the sport as both a player and an avid fan. Her other interests include travel and gardening.
Angela Rufo, DO
Medical School: Touro College of Osteopathic Medicine (NY)
Family Medicine Residency: Northwell Plainview Hospital (NY)
Dr. Angela Rufo completed undergraduate education at UMass Amherst, earning a bachelor of science in kinesiology and psychology. An athletic training internship during her college years played a pivotal role in her decision to pursue a career in sports medicine. She finished a master of science program in interdisciplinary studies in biological and physical sciences at Touro College of Osteopathic Medicine in Harlem, New York, where she continued on for medical training. During family medicine residency at Northwell Plainview Hospital, Angela honed her sports medicine skills as a medical tent volunteer for multiple road races and through performing numerous high school sports physicals. She has a particular interest in primary care sports medicine and in incorporating osteopathic techniques into care for injured athletes. Angela is a former collegiate ice hockey player and assistant high school ice hockey coach, and enjoys recreational softball, kickboxing, running, Tabata training, and travel.