The "Friday Morning Lecture Series" provides sports medicine fellows and faculty with an opportunity to meet monthly for intensive exploration of a topic in sports medicine.
Examples of topics include:
Concussion
Cardiology
Fracture evaluation /management
General medical conditions in the athlete
Injuries/ inflammatory disease
Information is delivered in a round-robin fashion, with fellows and faculty assigned to provide a 15-20 minute presentation related to the session's topic.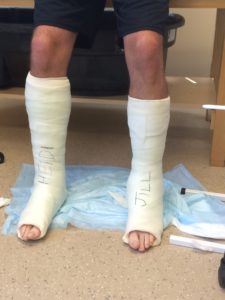 Examples of presentations for the cardiology series are:
Focused Cardiac Examination/ECG Review
HOCM/ARVD
Atrial Fibrillation in Endurance Athletes/Commotio Cordis
Anomalous Coronary Arteries/Long QT Syndrome
In addition to the Friday Morning Lecture Series, fellows have time blocked for ultrasound, radiology, exercise physiology, anatomy, and physical therapy didactics. They also participate in a biweekly virtual Journal Club with other sports medicine fellows in New England through an innovative regional sports medicine fellowship collaborative.
Ultrasound didactics:
Recurring biweekly practice sessions
First half of the year is dedicated to developing competence at diagnostic and interventional techniques
Second half of the year is dedicated to demonstrating competence and refining technique
Taught by fellowship faculty and local specialty attendings
Radiology didactics:
Taught by fellowship faculty and local specialty attendings
Joint and disease specific with case-based education
Exercise physiology didactics:
Recurring monthly half-day sessions
Integrates experiential learning opportunities
Comprehensive curriculum
Anatomy didactics:
Monthly half-day sessions
Organized by the Maine Post-Graduate Anatomy Didactic Consortium at the University of New England
Taught by Dr. Frank Willard, a phenomenal anatomist of national renown
Physical therapy didactics:
Covers running evaluation, blood flow restriction, concussion rehabilitation
Taught by a doctoral-level PT who specializes in orthopaedic physical therapy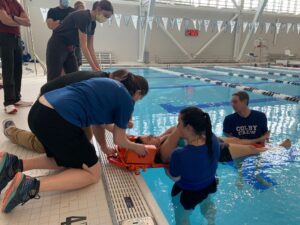 Other didactic opportunities such as hospital Grand Rounds are available to fellows as well. Additionally, Maine Dartmouth Sports Medicine Fellowship has joined virtually with several other sports medicine fellowships in the northeast to periodically provide journal club and other didactic education sessions across programs. This regional education consortium was a direct result of sports medicine program directors communicating during the start of the coronavirus pandemic, and we anticipate it will be an ongoing experience for fellows and faculty.