Thank you for considering the ONMM Residency at Maine-Dartmouth!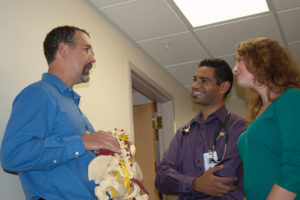 The ONMM Residency at Maine-Dartmouth is designed to provide advanced education in osteopathic principles and practice as well as the application of osteopathic manipulative medicine for treatment of acute and chronic conditions. This is taught in the context of a patient-centered multidisciplinary team-based model of care which includes our family medicine– and osteopathic neuromusculoskeletal medicine–boarded faculty, behavioral health care, integrative medicine, and functional medicine. Our graduates leave with a foundation particularly strong in the treatment of acute and chronic pain, and with skill and comfort in practicing hospital-based consultative care. The program emphasizes kinesthetic learning using a "hands-on-hands" mentoring process and ample clinical practice opportunities to develop proficiency with techniques.
Maine-Dartmouth Family Medicine Residency is a core family medicine residency with fellowships in geriatric medicine and sports medicine as well as the 12-month ACGME-accredited ONMM3 residency. These unopposed programs are embedded within a relatively large regional health care system and offer the advantage of shared resources and learning opportunities. Strengths of our program include diversity of educational and clinical opportunities; exposure to procedures including dry needling, trigger point injections, and prolotherapy, as well as acupuncture; access to the Arizona Center's integrative medicine curriculum; dedicated faculty with expertise in OMM, integrative medicine, and functional medicine; flexibility; and a strong network of local ONMM graduates and specialists. The region is also a beautiful place to live and work.
Diverse opportunities
Our program offers excellent inpatient and outpatient clinical experiences. Our own NMM hospital-based consultative service covers pediatrics, obstetrics, medicine, and surgery. Residents also rotate longitudinally at Maine Medical Center for an additional inpatient ONMM consultative experience that affords exceptional exposure to a broad diversity of patients and medical conditions. The Maine-Dartmouth Collaborative Care Center (MDCCC), our core outpatient experience, accepts community-based referrals for treatment of acute and chronic pain and other neuromusculoskeletal conditions appropriate for osteopathic manipulative treatment. ONMM residents have access to all the family medicine conferences including a weekly hospital Grand Rounds; all of the organization's sites are connected by video-teleconferencing equipment for ease of conference attendance. Our robust didactic schedule includes monthly didactics and gross anatomy review with renowned neuroanatomist Dr. Frank Willard, biannual day-long educational sessions through our OPTI, and weekly group ONMM didactics. ONMM residents also have opportunities to teach and precept osteopathic family medicine residents and medical students.
Integrative/functional medicine
Our ONMM residents have access to the Arizona Center for Integrative Medicine's innovative web-based Integrative Medicine in Residency program. Exposure to herbal medicine and ongoing collaboration with functional medicine and behavioral health colleagues are unique features of our program.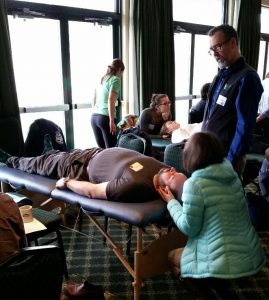 Expert faculty
Our faculty of family medicine and NMM/OMM–boarded physicians is augmented by family medicine colleagues at Maine-Dartmouth who practice osteopathic manipulative medicine and integrative medicine, as well as community-based ONMM specialists. ONMM residents have access to Maine-Dartmouth faculty with additional training in acupuncture, nutrition, and integrative medicine, as well as obstetrics, midwifery, sports medicine, and pediatrics. Specialists in radiology, PM&R, pain management, and rheumatology who are on staff at our teaching hospital serve as enthusiastic teachers and clinical supervisors during selective assignments.
Flexibility
We recognize that trainees enter our program with different skills and goals, necessitating some adjustment of education in order to optimize the educational experience. We also recognize that adults learn best by doing, so our ONMM residents assume an active role in clinical care and progressive responsibility. Elective and selective opportunities are individually tailored to address areas for additional learning.
Beautiful place to live and practice medicine
Finally, Maine is an amazing place to live and work. Our program is nestled within the lakes and hills region of central Maine which offers many opportunities for the outdoor enthusiast. Despite its more rural location, Portland is less than an hour away and Boston is a less than three hour drive south.
We invite you to learn more about the ONMM Residency at Maine-Dartmouth. Please feel free to contact us with questions or to arrange a visit.
Cheers,
Anna Veach, DO, C-NMM/OMM
Program Director