Welcome to Pre-Doctoral Education at Maine-Dartmouth Family Medicine Residency!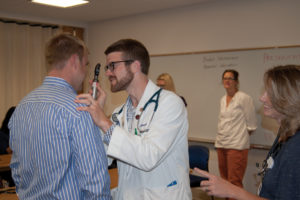 We are pleased you are considering spending some of your medical school clinical time with us. Maine-Dartmouth Family Medicine Residency (MDFMR) is a terrific place to learn. Enthusiastic faculty, a balance of allopathic and osteopathic medicine, residents and fellows eager to teach, and a warm and welcoming environment are some of what you can expect to experience with us.
We are a clinical campus for the University of New England College of Osteopathic Medicine (UNECOM), providing core topic clerkships for the entire third year of medical school training. We also provide core family medicine rotations to third year medical students from the Geisel School of Medicine at Dartmouth College and Tufts University School of Medicine.
Students from other schools with an interest in family medicine are invited to do a fourth year elective rotation with us. We offer experiences in family medicine with an outpatient emphasis, geriatric medicine, osteopathic manipulative medicine, and inpatient sub-internship.

Medical students are assigned to rotations at a number of clinical sites in the Augusta, Waterville, and Fairfield areas in addition to the Residency's family medicine practices. These may include MaineGeneral Medical Center's Alfond Center for Health in Augusta and Thayer Center for Health in Waterville. The Alfond Center for Health is our state-of-the-art regional hospital which opened its doors in November 2013. It features "green" design and construction, a patient-centered environment, and cutting-edge technology. The "ACH" houses several outpatient practices as well as inpatient services. The Thayer Center for Health is a comprehensive outpatient center which completed renovations in fall of 2014 and houses ancillary health care services, specialty practices, an emergency department, and Maine Dartmouth Family Practice.
Our supportive learning environment and emphasis on excellence in health care provides our students with a strong foundation in medicine that will prepare them for success in any specialty they choose. Please refer to our Frequently Asked Questions page for additional information about our pre-doctoral training environment and do not hesitate to contact us if you have questions.
We hope to see you on our health care team!
Best,
Christina Lincoln, DO
Director of Pre-Doctoral Education