Thank you for considering Maine Dartmouth Sports Medicine Fellowship!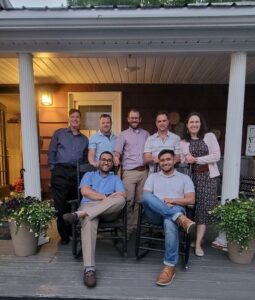 Maine Dartmouth Sports Medicine Fellowship specializes in training physicians to provide state-of-the-art sports medicine care in a rural setting. The fellowship is an unopposed program located in central Maine with training opportunities in Augusta and Waterville. Experiences include care of the collegiate athlete and coverage of mass participation events such as the Ironman 70.3 Maine, Beach to Beacon 10K, and cross country ski races. Fellows also serve as team physicians for local high schools, covering various sporting events throughout the year as well as weekly training room sessions.  The experience is characterized by a high volume of outpatient sports medicine patients of all ages with an emphasis on the amateur and recreational athlete, as well as community sports medicine. There is no hospital call.
Flexibility
The flexibility of our program sets us apart from other sports medicine fellowships. We recognize that fellows enter our program with different skills and goals, necessitating some tailoring of education in order to optimize the fellowship experience. We also recognize that adults learn best by doing, so our fellows take an active role in all aspects of sports medicine care delivery (with supervision always available).
Unique learning opportunities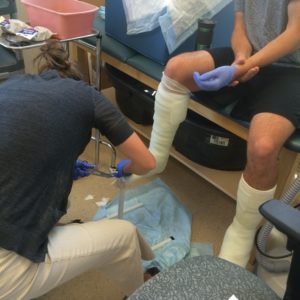 In order to maximize exposure to acute sports medicine injuries, our fellows spend two weeks at the Killington Mountain Clinic in Vermont, at the base of Killington Ski Resort. Acute fractures, dislocations, knee injuries (ACLs), and concussions are among the conditions our fellows will treat during this rotation. Our association with medical student education and family medicine residency programs provides fellows with numerous opportunities to teach.
Passionate faculty
Our five enthusiastic core sports medicine faculty have diverse training and interests including traditional team athletics, multisport events, community and pediatric exercise advocacy, and wilderness medicine. From procedural training to hands on interaction with athletes of all ages, Maine Dartmouth Sports Medicine Fellowship offers a breadth of experience not usually found in a rural setting.
Beautiful place to live and practice medicine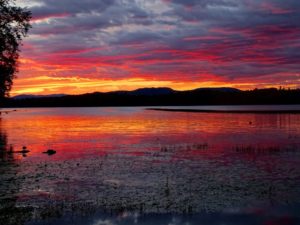 The fellowship is nestled within the lakes and hills region of central Maine and offers many opportunities for the outdoor enthusiast. Despite its more rural location, Portland is less than an hour away and Boston is a short 2 hour drive south.
We invite you to learn more about Maine Dartmouth Sports Medicine Fellowship! Please feel free to contact us with questions or to arrange a visit.
Warmly,
Chris Lutrzykowski, MD, Program Director