The Oldest Existing Family Medicine Residency in New England
Our residency  program began as a joint project of community hospitals in the Kennebec Valley region, the Veterans' Administration Hospital of Togus, Maine, and a rural research and development organization, Medical Care Development, Inc.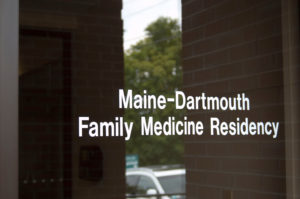 The oldest family medicine residency among those still in existence in New England, MDFMR was initially accredited in 1973 — as described in Pulitzer Prize–winning author John McPhee's "Heirs of General Practice." We affiliated with Dartmouth Medical School (now the Geisel School of Medicine at Dartmouth) in 1979 and were incorporated as the Maine-Dartmouth Family Medicine Residency (MDFMR) in 1980. Our second medical school affiliation agreement was signed with the University of New England in 1994. In 1997 we became affiliated with the Northeast Osteopathic Medical Education Network (NEOMEN) – the osteopathic postdoctoral training institution (OPTI) based at the University of New England College of Osteopathic Medicine (UNECOM).

Since 1980, we have been supported primarily by MaineGeneral Medical Center which operated two inpatient hospitals at which our residents trained.  In November 2013, inpatient services were consolidated into a single newly constructed, state-of-the-art facility, MaineGeneral Medical Center's Alfond Center for Health, located in Augusta, Maine. The former hospital campus in Augusta was renovated and now houses MDFMR Dermatology Services and Maine Dartmouth Geriatric Medicine. The Waterville campus was transformed into a comprehensive outpatient facility, MaineGeneral Medical Center's Thayer Center for Health, which houses Maine Dartmouth Family Practice, Maine Dartmouth Collaborative Care Center, and the Waterville office of MDFMR Dermatology Services.
The Maine-Dartmouth Family Medicine Residency has been graduating physicians since 1975, and a significant number of them have chosen to remain in Maine to practice medicine.
Maine-Dartmouth has been home to many fascinating and articulate people since its inception. Many have shared their stories or opinions, and we are proud to highlight a sampling of them here:
Dynamic Duo: Maine-Dartmouth Family Practice Residency Program and University of New England College of Osteopathic Medicine
By Charles Perakis, DO, Associate Clinical Professor and past faculty
The Journal of the American Osteopathic Association
Vol 105 ● Number 11 ● November 2005 ● 495-496
Big Doctoring in America: Profiles in Primary Care
By Fitzhugh Mullan, MD
Featuring Holly Gerlaugh Weidner, PA—past faculty & Connie Adler, MD–alum
Profile of Dr. Adler in JAMA
By Fitzhugh Mullan, MD
Vol 279 ● Number 22 ● June 1998 ● 1833
On Being a Doctor: An Arctic Moon
By James Glazer, MD—alum
Annals of Internal Medicine
Vol 143 ● Number 11 ● December 2005 ● 842-843
Finding Health Care is a Challenge for Migrant Workers
Maine Public Broadcasting 8/18/08
featuring Michael Rowland, MD—alum
Lack of Dental Care is a Growing Concern: FPs Step up to the Plate
AAFP News Now 8/26/08
featuring Bill Alto, MD (past faculty) & Harry Colt, MD, MDFMR Director
Whole Genome Scans Aren't Quite Ready for Your Doctor's Office
National Public Radio, March 11, 2014
Featuring W. Greg Feero, MD, PhD—alum and  current faculty