The Oldest Existing Family Medicine Residency in New England
Our residency  program began as a joint project of community hospitals in the Kennebec Valley region, the Veterans' Administration Hospital of Togus, Maine, and a rural research and development organization, Medical Care Development, Inc.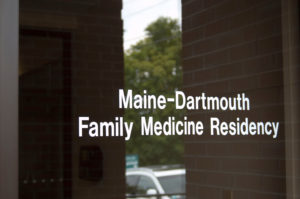 The oldest family medicine residency among those still in existence in New England, MDFMR was initially accredited in 1973 — as described in Pulitzer Prize–winning author John McPhee's "Heirs of General Practice." We affiliated with Dartmouth Medical School (now the Geisel School of Medicine at Dartmouth) in 1979 and were incorporated as the Maine-Dartmouth Family Medicine Residency (MDFMR) in 1980. Our second medical school affiliation agreement was signed with the University of New England in 1994. In 1997 we became affiliated with the Northeast Osteopathic Medical Education Network (NEOMEN) – the osteopathic postdoctoral training institution (OPTI) based at the University of New England College of Osteopathic Medicine (UNECOM).

Since 1980, we have been supported primarily by MaineGeneral Medical Center which operated two inpatient hospitals at which our residents trained.  In November 2013, inpatient services were consolidated into a single newly constructed, state-of-the-art facility, MaineGeneral Medical Center's Alfond Center for Health, located in Augusta, Maine. The former hospital campus in Augusta was renovated and now houses MDFMR Dermatology Services and Maine Dartmouth Geriatric Medicine. The Waterville campus was transformed into a comprehensive outpatient facility, MaineGeneral Medical Center's Thayer Center for Health, which houses Maine Dartmouth Family Practice, Maine Dartmouth Collaborative Care Center, and the Waterville office of MDFMR Dermatology Services.
The Maine-Dartmouth Family Medicine Residency has been graduating physicians since 1975, and a significant number of them have chosen to remain in Maine to practice medicine.
Maine-Dartmouth has been home to many fascinating and articulate people since its inception. Many have shared their stories or opinions, and we are proud to highlight a sampling of them here:
Big Doctoring in America: Profiles in Primary Care
By Fitzhugh Mullan, MD
Featuring Holly Gerlaugh Weidner, PA—past faculty & Connie Adler, MD–alum
Profile of Dr. Adler in JAMA
By Fitzhugh Mullan, MD
Vol 279 ● Number 22 ● June 1998 ● 1833
On Being a Doctor: An Arctic Moon
By James Glazer, MD—alum
Annals of Internal Medicine
Vol 143 ● Number 11 ● December 2005 ● 842-843
Finding Health Care is a Challenge for Migrant Workers
Maine Public Broadcasting 8/18/08
featuring Michael Rowland, MD—alum
Lack of Dental Care is a Growing Concern: FPs Step up to the Plate
AAFP News Now 8/26/08
featuring Bill Alto, MD (past faculty) & Harry Colt, MD, MDFMR Director
Whole Genome Scans Aren't Quite Ready for Your Doctor's Office
National Public Radio, March 11, 2014
Featuring W. Greg Feero, MD, PhD—alum and  current faculty
---
In Memoriam
The 2021-2022 academic year witnessed the loss of two legendary and foundational figures from the Maine-Dartmouth Family Medicine Residency family.  On December 17  2021, Alexander McPhedran MD, a founder of the residency program in 1973 and beloved educator, clinician, and program director passed after five decades of contributions to the residency.   Then on July 6 2022 the residency family lost Daniel K. Onion, MD.  Dr. Onion was program director from 1985-2002; his humor, caring, and relentless pursuit of excellence in primary care education shaped the lives and careers of countless health care professionals.
Alexander M. McPhedran, MD 1929 – 2021
One paragraph to describe almost 93 years of a life? Impossible. The academic details are impressive: Harvard medical school, US public health service in Mobile, AL from 1955-1957, then back to Massachusetts for residency in internal medicine and neurology. (Alex decided to be a neurologist because he wanted to carry all the tools he needed for physical diagnosis in his coat pocket and in his head.) Following a fellowship in neurophysiology, Alex and his growing family moved south again to work as a neurologist at Emory University Medical School (1963-1973). In the late 60's, Alex moved to Maine to start New England's first family practice training program, the Maine-Dartmouth Family Medicine Residency. Despite being a highly specialized physician by training, his understanding of and advocacy about the importance of primary care created a future for family medicine in Maine.
To say he was a great doctor might capture his intellectual curiosity (sharp to the end) and his lifelong dedication to learning, but leaves out his mechanical curiosity, love of boating, and his appreciation of classical music. To say he supported racial and gender equality as a 90 year old cis-, white, het- male doesn't capture the extent to which he actively worked throughout his life to make the world more equitable and just. Obituaries often talk about how beloved the deceased are, but it feels impossible to capture the extent of circles that Alex leaves: the students and medical residents that he taught during a career spanning decades, thousands of patients and their families, colleagues who looked up to him as a mentor, and a close circle of friends who would give anything for just one more visit with him.
Humble to the end, he attributed the existence of all his best characteristics to his beloved wife, Winnie, who predeceased him in 2013. He loved his four sons, Alec, Dave (who died in 2000 and was never far from Alex's heart), Tom, and John and he loved his daughters-in-law, Jayne, Karen Hazzard, and Patty Gordon. His grandchildren were his greatest joys – a clichéd phrase that fails to capture how much he lit up when one would walk into his room. He was kind and generous, supportive, curious, and steadfast. He carried a leather briefcase and read EKGs for the residency up until his death. He leaves an indescribable void. 
Click here to view the obituary of Dr. Alexander McPhedran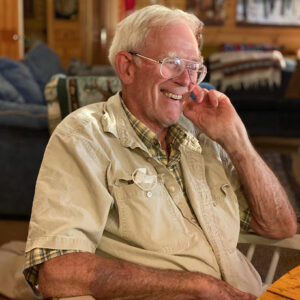 On July 6, 2022, Daniel K. Onion MD passed away at his home in Vienna, ME surrounded by his family.  On that day, the MDFMR community lost one of its most iconic clinician educators.  Dr. Onion served as Director from 1985-2002, and after stepping down remained active with the geriatric medicine fellowship.  Well known as editor of the "Little Black Book" series of medical texts, Dr. Onion helped to educate many of Maine-Dartmouth's current faculty and a wide diaspora of primary care leaders across the nation.
Click here to view the obituary of Dr. Daniel Onion
The residency has created a tribute to Dr. Onion titled The Big Black Book of Daniel K. Onion, MD. Each chapter is from a health care professional whose career and life were touched by Dr. Onion.  The title is a nod to the Little Black Book series of medical texts for which he was the founding author and editor.