Maine-Dartmouth hosted the eight annual Scholarly Activity Symposium, in person, on June 7, 2022. Brian Irwin DO, FAAFP, FAWM, CTH, Clinical Assistant Professor of Community and Family Medicine at Geisel School of Medicine at Dartmouth and MDFMR class of 2004, delivered the keynote presentation. An accomplished family physician, avid fly fisherman, skier, adventurer, and freelance writer, Dr. Irwin relayed his experience as the expedition doctor for a National Geographic trip in the Guyana jungle with biologist Dr. Bruce Means and a climbing team. The winner of the 2022 Dr. Russell DeJong Excellence in Scholarship Award was Dr. Lisa Smith, who was the lead author of a textbook chapter on health literacy for the 8th edition of Reichel's Care of the Elderly.
A recording of the event, made possible by the marketing team at MaineGeneral Medical Center, can be found HERE.
---
Feero WG. Genomics and precision health in 2021. Presentation. Nursing, Genomics and Healthcare Virtual Conference. (Wellcome Connecting Science Courses and Conferences, Hinxton, UK). July 7 2021. CLICK HERE TO DOWNLOAD & VIEW
---
Maine-Dartmouth hosted the seventh annual Scholarly Activity Symposium on Tues May 18, 2021. The event featured Robert Gramling MD, class of 2000, as the keynote speaker, presenting Epidemiology of Connectional Silence in Serious Illness Conversations.
The winner of the 2021 Dr. Russell DeJong Excellence in Scholarship Award was Dr. Rachel Criswell. A recording of the event can be found HERE.
A virtual poster session showcased the following:
A number of our graduating residents participated in a project that resulted in a peer-reviewed publication:
Rachel Criswell MD:
Endocrine-disrupting chemicals and breastfeeding duration: A review. Curr Opin Endocrinol Diabetes Obes. 2020;27(6):388-395.
Changes in parental smoking during pregnancy and risks of adverse birth outcomes and childhood overweight in Europe and North America: An individual participant data meta-analysis of 229,000 singleton births. PLoS Med. 2020;18(17).
Marie Dardeno DO: Warfarin-induced non-uremic calciphylaxis mimicking vasculitis (in press)
Sarah Housman DO and Nathan Devore MD: Ocular disorders in children exposed in utero to buprenorphine. Journal of Substance Use. 08 Feb 2021.
Tristan Reynolds DO:
Report on 7 years' experience implementing an undergraduate medical curriculum for osteopathic medical students using entrustable professional activities. J Am Osteopath Assoc. 2020;120(8):529-539.
Papules on a child's chest (photo rounds). J Fam Pract 2020;69(7).
Hair loss and scalp papules (photo rounds). J Fam Pract 2020;69(7).
Painful periocular rash (photo rounds). J Fam Pract 2020;69(7).
Rash, muscle weakness, and confusion (photo rounds). J Fam Pract 2020;69(7).
Max Schaefer DO: "They won't let me return to work." A carpenter diagnosed with porphyria cutanea tarda. SKIN. 2021;5(1):56-59.
---
Here is a smattering of recent accomplishments by some of our faculty. For more information, please see individual bios. We also invite you to see what our family medicine faculty and residents are currently doing by clicking here.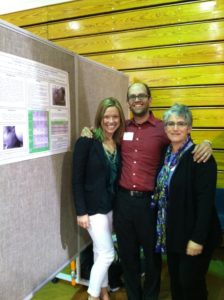 Feero WG, Wicklund CA. Consumer genomic testing in 2020. JAMA. Mar 19, 2020.
Karnes JB. Skin infections and outpatient burn management: Outpatient burn management. FP Essent. 2020 Feb;489:27-31.
MacKillop K, deKay J, Karnes J. Red painful nodules in a hospitalized patient. Journal of Family Practice. 2020;69(3):155-157.
Woolever DR. Skin infections and outpatient burn management: Fungal and viral skin infections. FP Essent. 2020 Feb;489:16-20.
Dhandha MM. Skin infections and outpatient burn management: Skin infections in patients with diabetes. FP Essent. 2020 Feb;489:21-26.
Trelease-Bell A. Skin infections and outpatient burn management: Bacterial skin infections FP Essent. 2020 Feb;489:11-15.
Seymour C. Structural differential considerations in farmworker health care. Testimony to National Advisory Council on Migrant Health Meeting, HRSA, Rockville, Maryland, Nov 2019.
McDonald J, Pisculli J. Working side by side: Cultivating and maintaining a long-term, sustainable primary care relationship with six local communities in Honduras. Presentation. AAFP Global Health Summit. Albuquerque NM. Oct 2019.
Fisher MJ, Trelease-Bell A, Anderson K, Fischer N. Streamlining support for struggling residents: An evidence-based toolkit for a rapid and efficient response. Presentation. 2019 FMEC Annual Meeting, Lancaster PA. Nov 2019.
Anderson K. Interprofessional collaborative practice: Using an educational case-based exercise as an intervention and assessment tool. Poster presentation. STFM Conference on Practice & Quality Improvement, Dec 2019.
Harmon K. Opioid use disorder: Specialized care for the mother-infant dyad and practical application of an osteopathic tenet. Presentation. ACOFP OMED conference, Baltimore, Oct 2019.
Colt H, Usatine RP. Chapter 167: Pyogenic Granuloma. In: Usatine RP, Smith MA, Mayeaux EJ, Chumley H, eds. Color Atlas and Synopsis of Family Medicine. 3rd ed. McGraw Hill Professional, 2019.
Smith C, Rifai T, & Woolever R. Suffering, burnout and moral injuries: What's the good news? A scholarly roundtable presented at the Society of Teachers of Family Medicine's 2019 Annual Spring Conference. Apr 2019.
Kennedy M, Batsis J, Reynolds C, Pepin R, Bruce M, Pidgeon D, Stevens C, Powell K, Eckhaus J, Korsen N, Beyea A, Bartels S, LaMantia. Mind, mood, mobility: Pilot trial of a community health worker intervention for functional decline in rural older adults. Poster presentation. 47th NAPCRG Annual Meeting Nov 2019.
Seymour C, Griffin C. Structural differential: A 32 year old man with persistent wrist pain. New England Journal of Medicine. 2018; 379(25):2385-2388.
Williams JK, Feero WG, Veenstra DL, Starkweather A, Cashion AK. Considerations in initiating genomic screening programs in health care systems. Nurs Outlook. 2018;66(6):570-575.