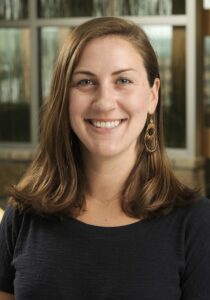 Olivia Simpson, MD
Medical School: American University of the Caribbean, Saint Maarten
Family Medicine Residency: Central Maine Medical Center Family Medicine Residency
Olivia (Liv) was born and raised in Beverly, MA and spent a good deal of her adolescence at her family's camp in Fryeburg, ME. She earned a bachelor of science in biology and a certificate in Latin American and Caribbean studies at the University of Massachusetts-Amherst. She worked in neurology research and private biotechnology for a few years before matriculating to the American University of the Caribbean School of Medicine in Saint Maarten. During medical school Liv spent a year in London for clinical training and completed her clinical work in New York and Connecticut. She completed residency in family medicine at Central Maine Medical Center where she was in a rural training track based in Rumford. Liv's love for geriatrics began and flourished during family medicine training and she is elated to join the geriatric medicine fellowship to advance her skills in caring for older adults. In her spare time Liv enjoys snuggling with her dog, Mowgli, and cat, Oomi, reading anything and everything, watching home design shows, skiing, and relaxing on the beach.